Falls in the Hospital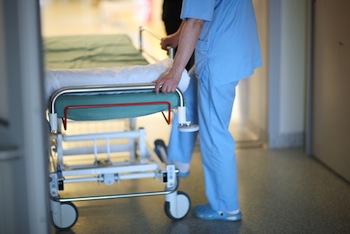 Falls among hospital inpatients are common.Each year, millions of hospital patients and older fall. Falls can cause moderate to severe injuries, such as hip fractures and head traumas, and can increase the risk of early death. Falls are a health problem that is largely preventable. In hospitals, approximately 3 to 20 percent of inpatients fall at least once during their stay. These falls are considered "preventable" by the Centers for Medicare & Medicaid, and therefore healthcare facilities are held accountable for the costs of treating any resulting injuries. These serious fall-related injuries can include fractures, subdural hematomas, excessive bleeding, and even death. Injuries due to falls also increase health care costs. Patients who fall and sustain injury are reported to have hospital charges much higher than patients who do not fall. Prevention of falls in the hospital setting is therefore an important patient safety and public health issue. The American Academy of Orthopaedic Surgeons reports that falls-related injuries can have serious results:
Twenty percent of falls require medical attention;
Falls can be fatal, or can cause a decline in a person's health that eventually leads to death or disability;
Most patients with hip fractures (a common fall-related injury) are hospitalized for about one week; after they are discharged, up to one in four adults who lived independently before their hip fracture has to stay in a nursing home for at least a year after their injury; and
• Treatment of the injuries and complications associated with these falls costs the United States $20.2 billion annually.
The Centers for Disease Control recently reported:
One out of three older adults (those aged 65 or older) falls each year1 but less than half talk to their healthcare providers about it.2
Among older adults, falls are the leading cause of both fatal and nonfatal injuries.3
In 2013, 2.5 million nonfatal falls among older adults were treated in emergency departments and more than 734,000 of these patients were hospitalized.3
In 2013, the direct medical costs of falls, adjusted for inflation, were $34 billion.
Twenty to thirty percent of people who fall suffer moderate to severe injuries such as lacerations, hip fractures, and head traumas.5,6 These injuries can make it hard to get around or live independently, and increase the risk of early death.
Falls are the most common cause of traumatic brain injuries.
About one-half of fatal falls among older adults are due to traumatic brain injuries.
Most fractures among older adults are caused by falls. The most common are fractures of the spine, hip, forearm, leg, ankle, pelvis, upper arm, and hand.
Many people who fall, even if they are not injured, develop a fear of falling. This fear may cause them to limit their activities, which leads to reduced mobility and loss of physical fitness, and in turn increases their actual risk of falling.
Content source: Centers for Disease Control and Prevention, National Center for Injury Prevention and Control, Division of Unintentional Injury Prevention
Situations like leaving an elderly patient alone in a particular area such as waiting for an X-ray or other test. Sometimes, a patient is not properly place on or fastened to a stretcher or gurney, and can experience a fall while being transported. Occasionally, a wheel or other component of the equipment can be defective or broken, causing a fall to occur.
Falls after discharge are also common. These falls have enormous physical, psychological and social consequences for older patients, including serious physical injury and reduced quality of life, and are also a source of substantial cost to health systems worldwide. Many of these claims go unreported, or left out of the medical records, depriving patients and their family members the right to pursue these claims. If you or a loved one has fallen in the hospital, demand that the event is properly documented in the medical records. If you suspect that a loved one has fallen of had an accident in the hospital, ask questions of the nurses, doctors and the staff. If you or a family member has fallen in a hospital, contact us today!
Get in Touch
1

Free Consultation

2

25+ Years of Experience

3

Zealous, Professional & Effective Representation
Fill out the contact form or call us at (504) 588-1900 to schedule your free consultation.